Optreden Roon Staal
ROON STAAL OP 9 OKTOBER IN VLIJMEN
VLIJMEN – Zanger en pianist Roon Staal treedt zaterdag 9 oktober op in de Protestantse Kerk. Het concert is onderdeel van zijn jaarlijkse Herfst Tour en start om 20.00 uur. De 41-jarige singer-songwriter bezoekt van 30 september t/m 31 oktober in totaal 21 locaties in Nederland.
Tijdens de concerten brengt hij zowel enkele van zijn originele werken (Promise, The Garden Of Light, Morgen Komt Eraan en het nieuwe By Her Side) als bekende covers zoals Smile, I Have A Dream, Danny Boy, Look For Me In Rainbows en andere werken van o.a. The Beatles, Abba en Simon & Garfunkel ten gehore.
Lovende kritieken
Terugkomend publiek kent de warme stem en het golvende pianospel van de zanger die ook bekende cover songs tot zijn eigen maakt. Maar voor hen die Roon Staal nog niet eerder live hebben meegemaakt heeft de legendarische zanger Art Garfunkel (Simon&Garfunkel) een aanbeveling:
"Here I take great pleasure in introducing the extraordinary talent of Roon Staal, one of the truly great singers in the western world! We have been friends for years, singing together and recording just for the beauty of it. Let the amazing tenor vocal performance of Mr Staal now carry you away! Very truly yours, Art Garfunkel".
En ook de Britse singer-songwriter Gilbert O'Sullivan is enthousiast over de Nederlandse troubadour : "It is his voice not least his songwriting ability that really shines throughout."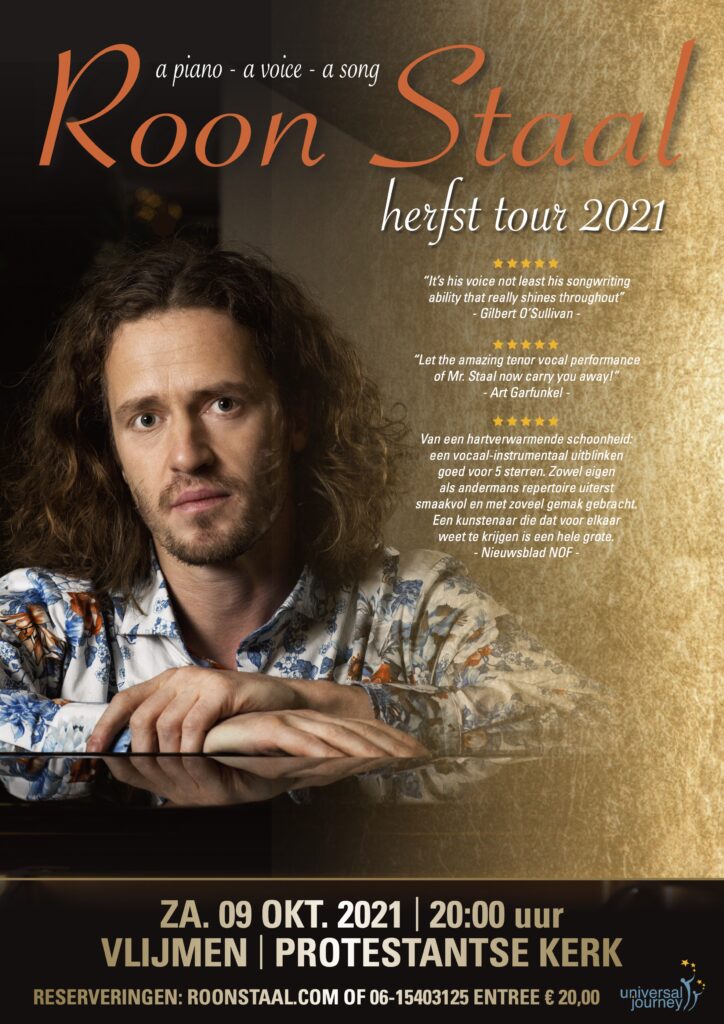 Musicals
Staal staat bekend om zijn imponerende piano spel in combinatie met zijn soepele, warme stem waarmee hij op authentieke wijze het publiek in vervoering brengt. De kleinschalige concerten scheppen daarbij een intieme sfeer tussen de artiest en het luisterend publiek. Toch stond hij al vanaf jonge leeftijd in de grotere theaters zoals Carre Amsterdam, Luxor Rotterdam en het Beatrix Theater in Utrecht. Hij speelde hoofdrollen in de musicals Les Miserables (1991), Tommy (2001), Rembrandt (2006) en Petticoat (2010), waarvoor hij genomineerd werd voor een Musical Award. Ook in het buitenland treedt hij af en toe op zoals in Rusland en Japan. Momenteel werkt hij aan een Amerikaanse album release waarvan de single Dreamer in deze nazomer uitkomt.
Alle informatie m.b.t. de Herfst Tour en het concert in Vlijmen kunt u vinden op de website www.roonstaal.com Reserveringen kunnen daar worden gemaakt of via 06-15403125 Tickets kosten € 20,00
Eerder hebben we georganiseerd:
Vlijmens orgel – muziek en verhalen
Op 7 november 2019 was het precies 50 jaar geleden dat het orgel van de Protestantse Kerk Vlijmen in gebruik genomen is. Dit wilden we niet ongemerkt voorbij laten gaan.
Op zaterdagmiddag 16 november 2019 was u van harte welkom voor een luchtig, boeiend en afwisselend programma met orgelmuziek en interessante verhalen over de geschiedenis van gebouw, begraafplaatsen, gemeente en orgel.
Deze middag werd georganiseerd door de Heemkundekring Onsenoort en de Protestantse Kerk. De befaamde organist Jacques van den Dool uit 's-Hertogenbosch speelde voor deze gelegenheid op het orgel. In het verleden heeft hij wel eens een concert op het orgel gegeven en hij is als geen ander in staat te laten horen wat dit bijzondere orgel allemaal in huis heeft.