Welkom op de site van de Protestantse Gemeente Vlijmen-Hedikhuizen
Wij zijn een veelkleurige gemeente. Veelkleurig in wie we zijn en wat we geloven. Een echte dorpskerk ook: op zondag zitten er 30 á 40 mensen in de kerk en je leert hier al snel namen en gezichten kennen. Wat ons bindt is een gezamenlijk zoeken naar God, betrokkenheid op kerk, dorp, elkaar en de wereld om ons heen. Ook in deze tijd, waarin veel dingen niet op de vertrouwde manier kunnen vanwege maatregelen m.b.t. het corona-virus, zoeken we naar manieren om samen te geloven, samen kerk te zijn.
Deze website biedt veel informatie over onze gemeente. Wilt u iets weten dat niet op de website te vinden is of vindt u persoonlijk contact prettiger? Dan willen we u vragen een berichtje te sturen of ons te bellen. U kunt hiervoor de pagina 'contact' gebruiken, waar de benodigde gegevens te vinden zijn.
Het kerkgebouw van de protestantse gemeente Vlijmen-Hedikhuizen ligt aan de
"Grote Kerk 20" te Vlijmen. Zie route voor meer informatie.
De zondagse eredienst wordt 's morgens om 10.00 uur gehouden, tenzij anders aangegeven.
Voor kinderen van 0 tot 4 jaar is er tijdens de eredienst een oppasdienst in de crèche "De Schaapjes", in de kerk.
Kinderen van 4 tot 12 jaar kunnen tijdens een gedeelte van de eredienst de kinderkerk in de consistorie bezoeken.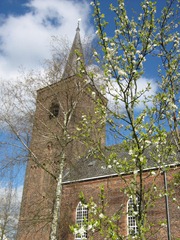 Berichten
Via onderstaande link kunt u de nieuwsbrief van onze predikant Ds. M. Trapman lezen. NieuwsbrievenNieuwsbrievenlink
Hier kunt u naar de live stream opnames gaan. Onze kerkdiensten kunt u voorlopig tot nader horen volgen.LivestreamingLink
Hier kunt u het preekrooster inzien
Voor degene die niet in staat zijn om zelf de afstand naar de kerk af te leggen is er de mogelijkheid om zich te laten ophalen door de kerktaxi.
Voor meer informatie over het kerkelijk bloemschikken kunt u op onderstaand plaatje klikken.